Defense
ITAR Compliant for Precision Metal Machining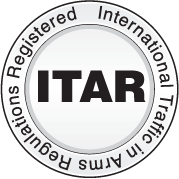 Wrobel Engineering is ITAR (International Traffic in Arms Regulations) Compliant. We are registered with DDTC (Directorate of Defense Trade Controls) and with documented education and training in ITAR regulations.
ITAR Registered U.S.A. Facilities
Rugged Solutions
We provide military and defense manufacturing services to the most respected defense contractors in the United States. Our parts and components travel to the deepest depths of the ocean and into the highest reaches of space in control systems, electronics panels, enclosures, and vehicle frames. These components are engineered at the very highest of specifications for zero failure under the most extreme conditions.